The Camuso Display is proud to be keeping Mr. Camuso's dream alive
The Camuso family always collected monetary donations at their home display for the St. Barnabas Burn Center Foundation in Livingston, where Mr. Camuso was once a patient. St. Barnabas has been a very active partner in getting the collection back on display and funds are once again raised for the Burn Center each holiday season in honor of Mr. Camuso and his family.  In the last 3 years we have collected over $10,000 that is donated directly back to the Burn Center.
---
Camuso Family Christmas Display Fundraiser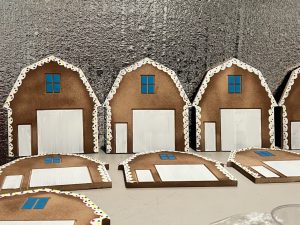 Each year the Camuso Elves create an original idea to help fund raise to keep the Camuso Holiday Display up and running.
For 2021 the Camuso Elves will be making Gingerbread Shed's in honor of the new Camuso Shed that has been erected that the Oval for storage and repair of the Camuso Holiday decorations.
Please click here to fill out the form to have your very own Camuso Shed Gingerbread house!!